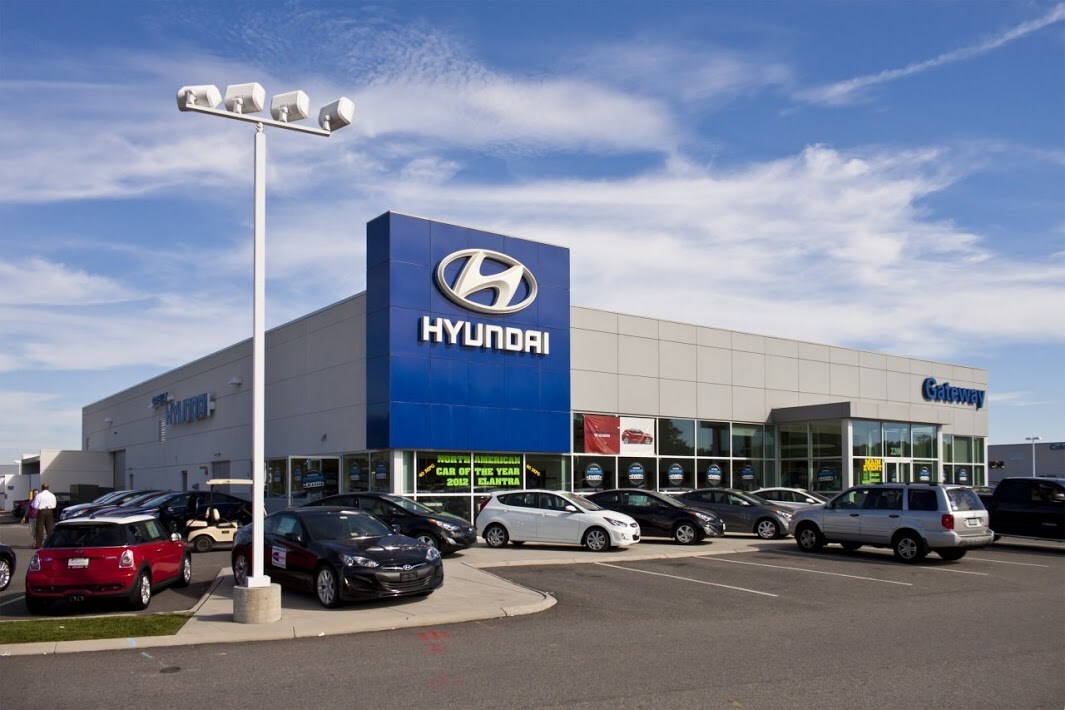 Welcome to Gateway Hyundai, a premiere automotive dealership located in Chester, VA and also serving the Petersburg, Chesterfield, and Richmond areas! 
Gateway Hyundai is a part of Carter Myers Automotive, a fourth-generation, family-owned business that has been assisting Virginia drivers with all of their automotive needs since 1924. Here at Gateway Hyundai, we pride ourselves on attending to our valued customers by having an extensive new inventory featuring the latest lineups of models from Hyundai, a leading automotive maker known for vehicles that are innovative, dependable, and exceptional values. Another way we serve our customers is with your used inventory, which contains a comprehensive collection models from American and international automotive makers. And when the time comes to perform routine maintenance on your car, our service department has that covered, as well. Lastly, we make it an emphasis of our dealership to help drivers find new or used cars that fit their budgets, which is why our financing department is staffed with finance experts who can help you obtain a car loan or finance package that suits your unique situation. If you're near the Richmond, VA area, be sure to come see us at Gateway Hyundai where we promise you an enjoyable experience throughout every stage of the car shopping process!
New Hyundai Inventory
There are plenty of good reasons why to buy a Hyundai vehicle. When it comes to our new inventory, one big reason for why you should buy a Hyundai is the sheer diversity of models available. From compact cars and hatchbacks to sedans and crossovers to SUVs, hybrids, and even performance vehicles, Hyundai has vehicle options to satisfy the transportation needs, driving styles, and personal aesthetic tastes of drivers throughout the Richmond, VA area and beyond. We have plenty of models in our new inventory that we are especially excited about, but to start we'll tell you about the 2016 Hyundai Santa Fe, 2016 Hyundai Tucson, the 2016 Hyundai Sonata Hybrid, and the 2016 Hyundai Accent. This compact sedan has a modern and sporty exterior along with performance characteristics that make it fun to drive in many senses. Another standout is the 2016 Hyundai Sonata. This sedan isn't just elegantly designed, it also has a spacious interior that easily seats five adults and all of their luggage with plenty of room to spare. If you're the research type, click here to compare the 2016 Hyundai Tucson or the 2016 Hyundai Sonata against the competition!

Our Used Inventory
Our used inventory at Gateway Hyundai includes a selection of pre-owned cars of different makes and models, and these are always changing as some drivers find their next vehicles while other drivers trade in their previous vehicles. One constant fact about our used inventory, however, is that is always contains a winning selection of quality cars and SUVs at outstanding values. Aside from our comprehensive inventory of pre-owned Hyundai vehicles, including certified pre-owned Hyundai cars, other automotive makes that we regularly have in stock include Chevrolet, Dodge, Ford, Honda, Jeep, Kia, Nissan, and Toyota. And for those drivers on a tight budget, we also have a special collection of used cars all selling for $15,000 or less! Be sure to check in with our dealership often to see what great vehicles are currently available in our used inventory.
Service Department and Parts/Accessories
When you take your car to our service department, you can expect to have the work done correctly, but you can also count on our expert technicians treating you correctly. Whether you're coming to us for routine maintenance like oil and filter changes or tire rotations or to fix a more serious mechanic issue that has arisen, our technicians will greet you with a smile, they will listen intently to what you have to say, and they will make sure that you are able to get back on the road and on with your life as quickly as possible. Meanwhile, if you need genuine Hyundai parts or accessories for your vehicle, our parts department is the place where you can order OEM parts and have them expertly installed. When you do business with Gateway Hyundai, you'll find that our sales staff is there for you when you buy your new or used car, and our service technicians will be there for you long afterwards by making sure your vehicle is continuing to operate properly and keep you safe out on the roadway.
Automotive Financing
We believe in helping all of our customers to fulfill their automotive needs here at Gateway Hyundai. This includes having a financing department that assists drivers in obtaining the right car loan, finance package, or lease agreement for their unique situation. Regardless of your credit score or financial history, our finance personnel will work diligently with you to find the optimal solutions available. And in order to make the process faster and easier, so that you can spend less time filling out paperwork in our dealership and more time out on the roadway having fun behind the wheel of your new vehicle, we make our financing pre-approval application available online. So the next time you're shopping for your next new or used vehicle in the Chester, Petersburg, Chesterfield, or Richmond, VA area, be sure to stop by and see us at Gateway Hyundai, the Richmond area's premiere Hyundai dealer and service center!